Improv Basics with Peggy Etra
THURSDAYS
7-10 PM EST
MAY 25 & JUNE 1
Taught over Zoom
If you're a blocked veteran, a newbie actor or a performer looking to more spontaneity in your performance while feeling grounded and connected, then you already know that…. improvisation can bring your work to LIFE!
When you think about improv you might be thinking about comedy, thinking on your toes, remaining open...and for some that might be intimidating. But, the truth is, we improvise in our everyday lives, we innately know how to do it. The trick is unclenching so that we feel free to improvise in our performances. You already know how to improvise, you just need the tools to relax and have FUN!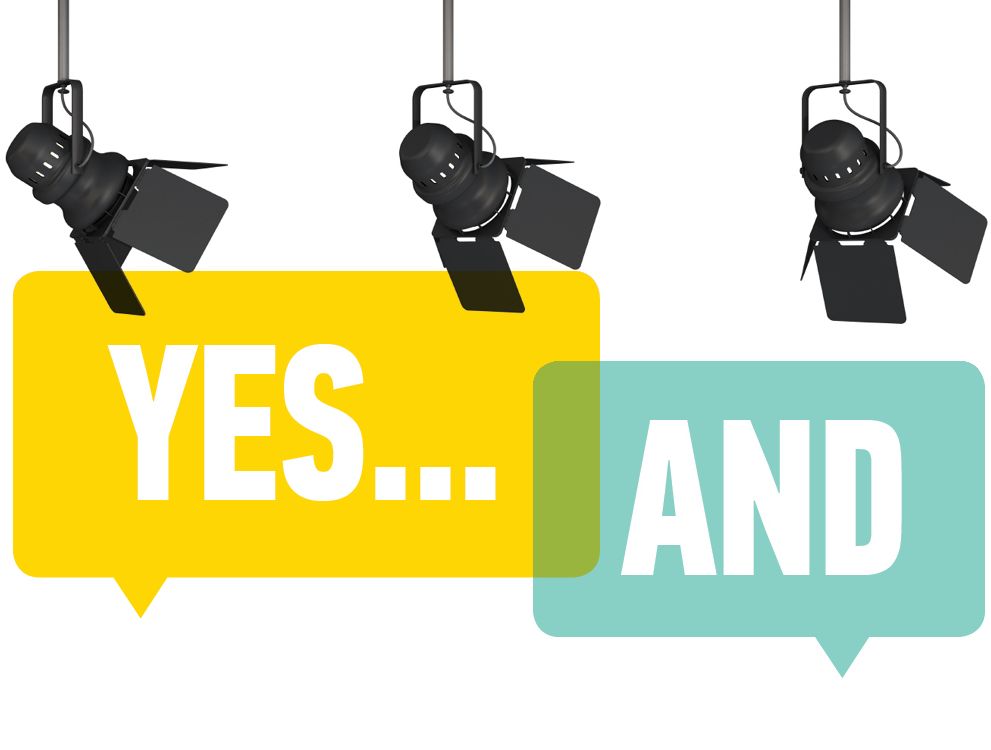 By the end of the two week class,
you will…
Learn the basics of quickly establishing "Who, What, Where" of the scene

This sounds easy but you'd be surprised how many trained actors drop the ball...

Leave with the tools to be an excellent LISTENER

This is a skill that is key to building healthy relationships in life but it's even more critical to unlocking a masterful performance.

Become an A+ Scene Partner

How do we collaborate to come up with shared performances we never would have thought of alone?

Shed those Pesky Inhibitions

Peggy will cover how to ground yourself so that you make bold, exciting choices that spice up your performance and allow you to have FUN (aka the most important thing).
Enroll in Improv Basics with Peggy Etra Today
THURSDAYS
7- 10 PM EST
May 25 & June 1
What to Expect!
Week 1
The Basics
Peggy will break down the basics of excellent listening, establishing (and agreeing on) the "Who, What, Where" of the scene, and the importance of "Yes, and."
For more experience improvisers, this class is all about honing and re-focusing your skills and learning how to "fix" a scene that's gone awry.
Students will work in pairs.
Week 2
Building the Performance
In this class students will again work in pairs and build on last week's tools.
Students will learn about emotional response, tips and tricks for attending to your partner, and how to relax to shed inhibitions.
Each class is a safe space to explore, be BOLD, and experience "failure" as a part of learning.
Peggy Etra
For over 40 years, Peggy has studied and performed Improv with The Groundings, Gross National Product, National Lampoon Players, TheatreSports, and Improvatorium.
She is a current performing member of Puppet Up! (Adult Improv Puppet Show produced by The Jim Henson Company).
She can be seen in The Barbarian and The Troll (series regular), Seinfeld, Boston Legal, Crash and Bernstein, The Last Champion, Earth to Ned, among others...
She studied at San Francisco State University, Pacific Conservatory of the Performing Arts, American Conservatory Theatre, and holds a degree in Theatre.
She taught short form at Improvatorium.
Enroll in Improv Basics with Peggy Etra Today
THURSDAYS
7- 10 PM EST
May 25 & June 1
Frequently Asked Questions
What our most successful students asked before joining
Who Should Take This Class?
Why is this class taught Online vs. In Person
What if I can't make it to every class?
What happens after I sign up?
Enroll in Improv Basics with Peggy Etra Today
via Zoom
THURSDAYS
7- 10 PM EST
May 25 & June 1